Incoming PPP with callback
``An incoming PPP configuration with callback'' shows the bundles and link devices that would be used to configure an incoming PPP connection when you want the local system to call back the remote system before the link is finally initiated.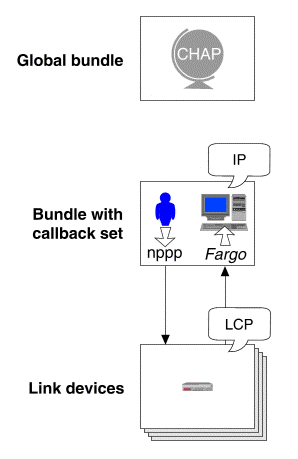 An incoming PPP configuration with callback
As in ``Incoming PPP over modems and ISDN'', the global bundle defines how all incoming users are authenticated. In this case, CHAP is used again. The user nppp calling in from the system Fargo is allowed to bring up the link so the bundle defines both nppp as the user for incoming calls and Fargo as the destination system for outgoing calls. The callback flag is also turned on in the bundle. As soon as nppp dials in and is authenticated successfully, the local system drops the connection and dials Fargo to set up the PPP link in the opposite direction.
---
© 2004 The SCO Group, Inc. All rights reserved.
UnixWare 7 Release 7.1.4 - 22 April 2004