SCO ISDN adapter drivers
MDI version 2 includes ISDN (Integrated Services Digital Network) extensions that provide support for ISDN device drivers. ISDN devices in an SCO environment are controlled with ISDN STREAMS messages and ioctls based on the CAPI (Common ISDN API) version 2.0 specification. SCO ISDN drivers consist mostly of CAPI code.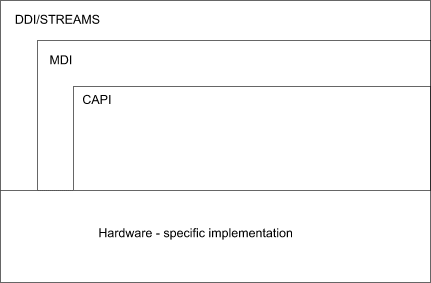 MDI/ISDN driver message interface
SVR5 supports the Basic Rate Interface (BRI) and Primary Rate Interface (PRI) ISDN services.
To create an SCO ISDN driver, you must:
---
© 2005 The SCO Group, Inc. All rights reserved.
OpenServer 6 and UnixWare (SVR5) HDK - June 2005