The Print Job Manager interface
Use the Print Job Manager to delete, hold, resume, promote, and transfer print jobs. You can start the Print Job Manager in any of these ways:
Choose SCOadmin from the SCO menu (above the SCO logo) on the CDE desktop, then select Print Job Manager.

Start the SCOadmin launcher by entering scoadmin on the command line, then selecting Print Job Manager.

Enter scoadmin print job manager on the command line (or abbreviate to scoadmin pr).

For more information on using SCOadmin managers, see ``Administering your system with SCOadmin''.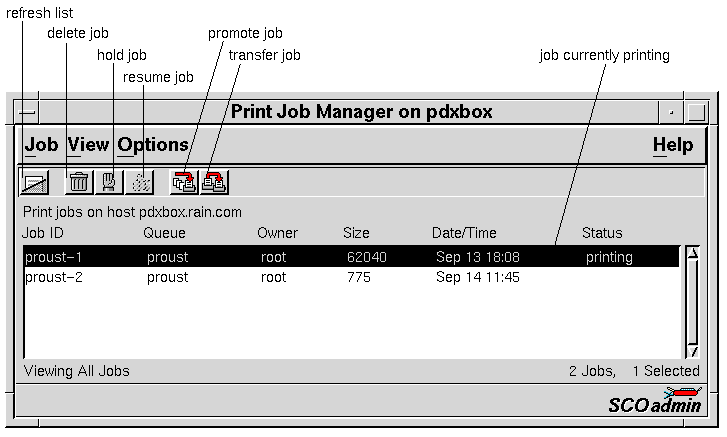 Print Job Manager menus
| Job | View | Options |
| --- | --- | --- |
| Delete | All Jobs | Point Help |
| Hold | By User(s) | Toolbar |
| Resume | By Queue(s) | Customize Toolbar |
| Promote | Warnings/Errors | |
| Transfer | Set Auto Refresh | |
| Select All Jobs | Refresh Now | |
| Deselect All Jobs | | |
| Exit | | |
See also:
---
Next topic: Selecting and deselecting multiple jobs
Previous topic: Managing print jobs

© 2004 The SCO Group, Inc. All rights reserved.
UnixWare 7 Release 7.1.4 - 22 April 2004